We have a new challenge at
Paper Creations Ink
and the theme is "Bling it on".
I loved working with the images created by Miranda Van Den Bosch, for this challenge. Miranda is one of our DT members and she is the sponsor for this challenge.
For my card, I used the image: Present Fairy and colored it with non traditional christmas colors, well almost, I did color the shoes and the ribbon red and the gift box is green, ... I love red shoes.
Miranda has drawn 3 wonderful fairy images for Paper Creations Ink! These beautiful images that the Design Team has created with are going to be given away as our prize for this challenge. Please visit Paper Creations Ink to see the wonderful images.
Our MONTHLY sponsor is

Crop Stop

! We are so excited to share with you the wonderful prize that Crop Stop has offered to ONE lucky winner, a $30.00 gift certificate to their online store! How cool is that? In order to be eligible for this wonderful prize, you must enter BOTH December Challenges to win! (We wanted to extend a HUGE "THANK YOU" to Haylie-Jo owner of Crop Stop!)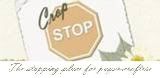 I can't wait to see your creations.